Welcome to Small Woods Farm! We are a small breeder of friendly, correct, and entirely fabulous Nigerian Dwarf goats in central Connecticut. Please feel free to explore these pages to learn about goats in general, our animals in particular, and life on our tiny scrap of farm.
Why Nigerian Dwarf goats?

We breed Nigerians because we love them– the milk is just a wonderful side benefit. Nigerian Dwarfs are small (22.5 inches at the shoulder for does, 23.5 for bucks). They are good-natured goats who are curious, funny, and easy to manage. They are excellent 4-H animals for younger children or those new to livestock. They are uniquely suited to smaller lots and are hardy in our freezing winters and hot, humid summers. And, finally… the milk!
Nigerian Dwarf goats produce milk with 5-9% fat. It's a bit richer than the cow's milk we used to buy, but delicious in cereal and cold in a glass. Kept clean and cold, it has no "goaty" taste or smell and makes incredible cheese. So far, we have not sold any goat cheese because we and our families eat it all. If that ever changes, we'll post it here first!
Our Philosophy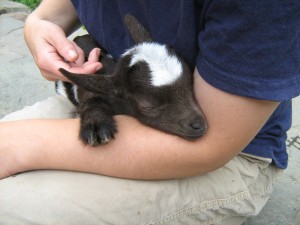 We raise goats as correct examples of the breed, pets, milkers, and companions. Kids are dam-raised but spend time with us and at least one of the children every day. They are well socialized long before they leave the farm. We love our goats, and will need to ensure that buyers are prepared with the information and facilities to care for them! We will help you with basic information on goat care, links to good sources of goat information on the Internet, and reasonable phone support as needed after purchase.
We only buy from disease-free herds, and our herd test in January 2014 came back with all animals negative for CL, CAE, and Johnes.